Social bookmarking












Bookmark and share the address of Forum NeverClick - Make Money Online - RefBack Offers on your social bookmarking website
SSL Certificate
ATTENTION: The SLL certificate has been installed, leaving some images of the forum unadjusted, especially in non-https hosting. The images of the profile signatures should be hosted on htpps sites Also the address of the forum become to be https.. SSL Certificates are small data files that digitally bind a cryptographic key to an organization's details. When installed on a web server, it activates the padlock and the https protocol and allows secure connections from a web server to a browser. Typically, SSL is used to secure credit card transactions, data transfer and logins, and more recently is becoming the norm when securing browsing of social media sites.
RoboForm -Gerenciador automatizado de senhas e preencher de formulários web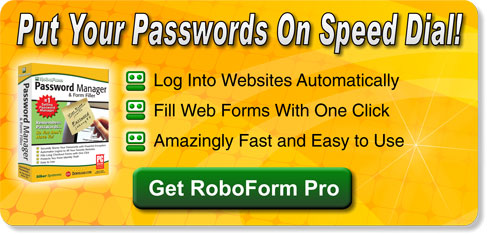 Resumo Rápido
RoboForm é premiado gerenciador automatizado de senhas e preencher de formulários web com um pouco de uma potente Inteligência Artificial . És isto o que ele faz:
• Salva automaticamente senhas no navegador.
• Preenche automaticamente senhas em formulários de login.
• Clica no botão de Login para você.
• Preenche dados pessoais em formulários online.
• Salva senhas offline & notas de texto.
• Gera Senhas Seguras Aleatórias.
• Criptografa senhas e dados pessoais usando os algorrítimos AES, Blowfish, RC6, 3-DES uo 1-DES.
• Todas as informações pessoais são armazenadas somente em seu computador.
• Leve o RoboForm em um drive USB para uma portabilidade superma.
• sincriniza suas senhas e notas em dispositivos Palm ou Pocket PC.
• Salva & Restaura, Imprime suas senhas.
• Mais Características : desça a janela para mais.
• É bem comportado: NENHUM ADWARE, NENHUM SPYWARE.
• Funciona sob Windows como uma adição para navegadores baseados no IE.
• Trabalha com o Netscape, Mozilla, Firefox sob Windows.
Download-RoboForm
Espero que ajude.. 

_________________
Admin




Mensagens

: 9788


Data de inscrição

: 2013-10-04


Idade

: 43


Localização

: Maia-Porto



---
Permissions in this forum:
You
cannot
reply to topics in this forum