Social bookmarking












Bookmark and share the address of Forum NeverClick - Make Money Online - RefBack Offers on your social bookmarking website
SSL Certificate
ATTENTION: The SLL certificate has been installed, leaving some images of the forum unadjusted, especially in non-https hosting. The images of the profile signatures should be hosted on htpps sites Also the address of the forum become to be https.. SSL Certificates are small data files that digitally bind a cryptographic key to an organization's details. When installed on a web server, it activates the padlock and the https protocol and allows secure connections from a web server to a browser. Typically, SSL is used to secure credit card transactions, data transfer and logins, and more recently is becoming the norm when securing browsing of social media sites.
Freedogecoin -FREE PLAY- MULTIPLY DOGE - REFER   (site irmao do freebitco-site pagador)
Registro-Freedogecoin
FreeDogecoin is a new website to gain DogeCoin.
Same principle as Freedombit.co.in:
- Enter your address DogeCoin
- Click I'm not a robot
- Solve a captcha
- Click Get Reward§ and your gain is instantly credited into your FaucetBox
Win every 60 minutes:
   Doge 4.08 (98.7%)
   Doge 57.8 (1%)
    578 Doge (0.1%)
  5783 Doge (0.05%)
 Doge 57,831 (0.02%)
Doge 578,316 (0.01%)
Multiply your Dogecoins playing a PROVABLY FAIR HI-LO game!
Roll number 8888 to win the jackpot of 100 DOGE
REGISTER-HolyTransaction is the universal cryptocurrency wallet with instant exchange.
Last edited by Admin on Sun 08 Jan 2017, 1:52 pm; edited 3 times in total
_________________
https://neverclick.portugueseforum.net/t626-freedogecoin-free-play-multiply-doge-refer#5430
mais uma prova de pagamento semanal

_________________
_________________
_________________
_________________
_________________
_________________
Bump!!!


_________________
Second Prize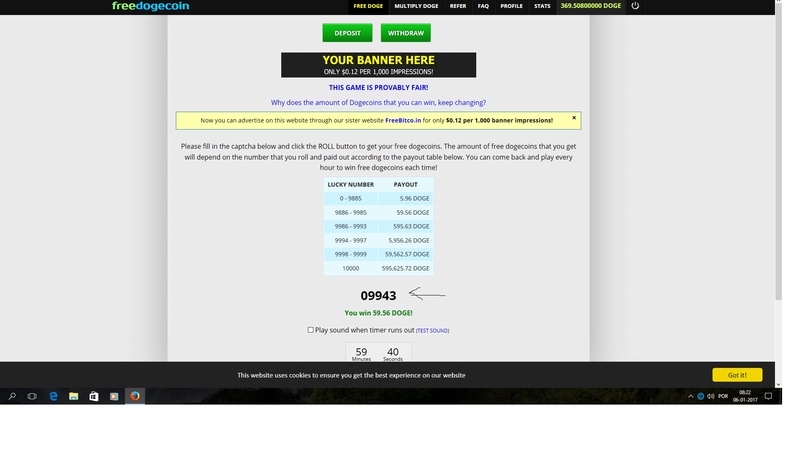 _________________
_________________

Similar topics
---
Permissions in this forum:
You
cannot
reply to topics in this forum